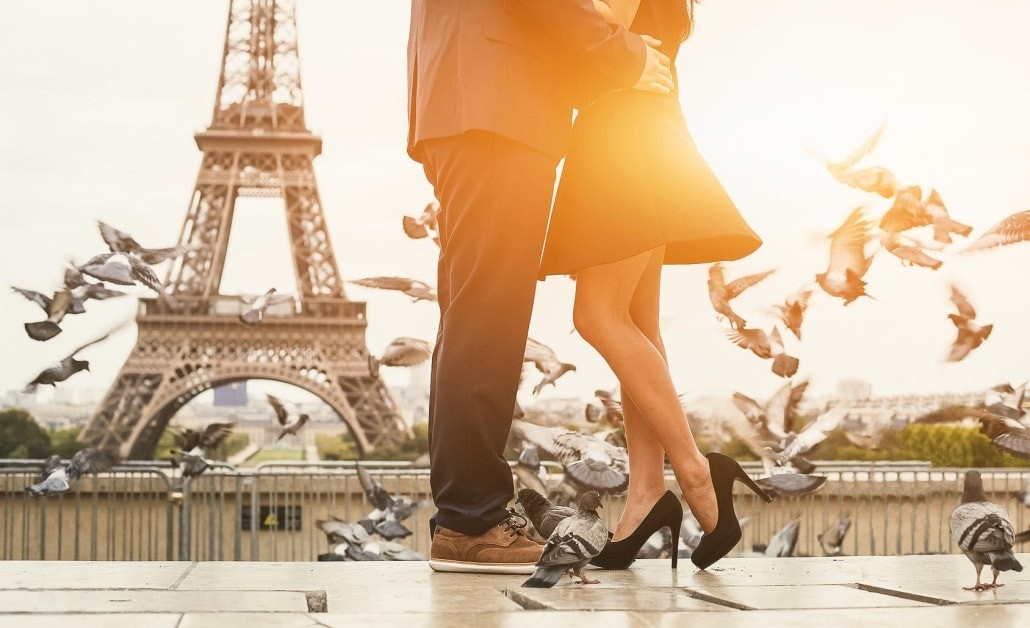 Romantic and exclusive weekend in Paris
With a chartered air taxi to Paris
Do you remember when Hamburg-based band Felix de Luxe sang about a taxi to Paris? Many women thought of this as incredibly romantic. If you want to top the content of this song by offering your partner an exclusive weekend trip to Paris, you have come to exactly the right place. For special purposes, a little bit more luxury is always allowed, don't you think? You and your partner will fondly remember such as highlight for many years to come.
Private jet instead of "taxi to Paris"
The most obvious disadvantage of a real taxi trip to Paris is the duration of travel. If you just want to spend a weekend in the capital of France, you have to come up with something else. An air trip takes you just between one and two hours. However, you have to deal with the discomfort of an early check-in and an often crowded airplane. But you can also fly by private jet from any German airport. In this way, you save time as you can skip early check-ins and queuing at the airport. Shortly after take-off you will spend a very relaxed private time together with your partner in the city on the Seine.
Instead of queuing in front of the check-in counter, you profit from the exclusiveness of your own terminal and a correspondingly fast check-in process. You can accommodate your departure time to your own needs. The type of jet you want to use can be chosen from our wide selection of aircraft, bearing in mind the desired level of comfort. As a romantic entree to your Paris trip, you can enjoy a glass of champagne and an exclusive catering on board. This should be a very pleasant foretaste to a luxury weekend of a very romantic nature.
Take-off to the city of love
Paris has much more on offer than you can experience in one single weekend. After an exclusive shopping tour along Rue de Rivoli, you can dine in the best gourmet restaurants. Many love couples cherish the possibility of sitting down on river bank of the Seine with a baguette, a bit of cheese and a good bottle of red wine. If you are fond of vegetarian haute cuisine, we recommend the restaurant L'Arpège located at 84, Rue de Varenne. However, one of the most prestigious gourmet restaurants in Paris, La Tour d'Argent, can be found on the Quai de la Tournelle.
A romantic trip can have so many facets. With the right companion, a small hotel overlooking the Seine can be just as delightful as a lush stay at the legendary Ritz. Whatever you have in mind: Your stay in the city on the Seine is guaranteed to be an experience of unparalleled joy. Paris has become a symbol for refined French cuisine, fashionable elegance and shopping events at their best. A must-do for romantic characters on a shopping spree is a visit to Galeries Lafayette situated on Boulevard Haussmann. The colorful glass dome is well worth a second glance. A similar splendid view can be experienced from the platform of the department store, overlooking the roofs of the city.
Many lovers fall in love in Paris
If you are a true romantic, don't miss a look at the Eiffel Tower when illuminated after nightfall. Every hour, the 20,000 lamps on the Eiffel Tower will light up for five minutes. A truly enlightening experience! You can top this by paying a visit to the Eiffel Tower restaurant, 58 Tour Eiffel, located at the first upper floor of the building. A good look at the sea of Paris lights is also ensured from Pont des Arts. Thousands of lovers have sworn their eternal dedication to each other by attaching a so-called love lock to the bridge parapet and throwing away the key. Meanwhile, the city council has ended this romantic tradition. But Paris is far too gorgeous for anyone to be grieving about that.
We prefer to guide you to the Mur des je t'aime instead – the wall of lovers' oaths at the Place des Abbesses. With its Sacré-Cœur basilica, the hill of Monmartre offers one of the most beautiful attractions in the city on the Seine. As you are in the Montmartre artists' quarter by then anyways, you can continue your romantic walk right there.
Experience an unforgettable weekend in Paris with Avito Moments
Do we have aroused your interest? Please contact us and we will gladly make you an offer. If you wish, we will take care of your hotel booking, table reservations and supporting program. Please send an e-mail to info@avito-aviation.com or call +49 (0) 6196 – 934 99 61.